Top 10 Highest Selling Club Soccer Jerseys
Top 10 Best-selling Football Club Shirts In The World
Highest selling football club jerseys? Which are the football teams with the best selling football club jerseys? Football nowadays days is not only a sport it is also a way of business among clubs, their are three major kit sponsors in the world and that's Nike, Adiddas and Puma. Adidas and Nike dominate the top 10 highest selling football club jerseys are sponsering the teams with the world's best selling club football shirts
Top 10 Highest Selling Club Soccer Jerseys 10
Which is the best selling football club jerseys? We have compiled a list below with the top 10 highest selling club jerseys in soccer. The list with top selling football club shirts is compiled with figures that are for official replica jerseys only and does not include the millions of fake and knock-off jerseys that circulate the market every year. Otherweise the best selling club football shirts would be something else then the offial figures. So which is the highest selling football club jersey and which is the best selling football club jersey?
10. AC Milan – 350,000 Football/Soccer Shirts/Jersey Sales Per Year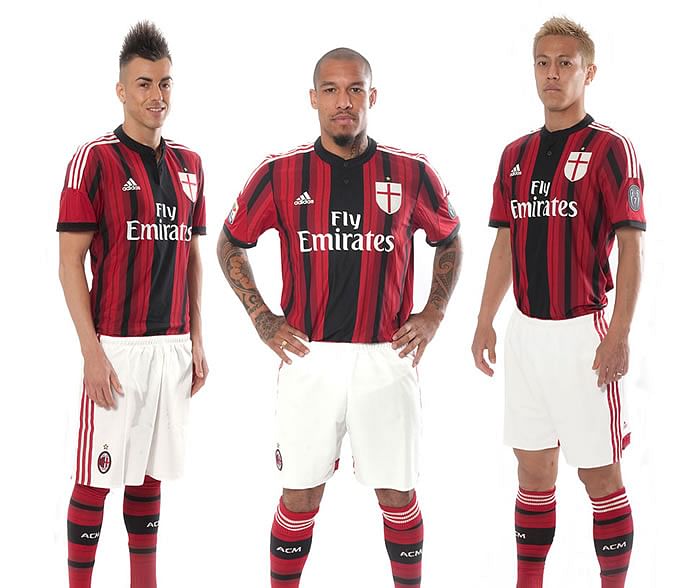 At number 10 on our list with the Highest selling football club jerseys comes AC Milan. AC Milan, nicknamed the Rossoneri, is an Italian team playing in the Serie A, Despite their poor form in the league the italian giants are still one of the best selling jerseys in world football AC Milan have a 10 year contract with addidas which will expire in 2017 and receives a year fee of $19 million. This make AC Milan amoung the top 10 best-selling football club shirts in the world.
Highest selling jersey names: Paolo Maldini, Ronaldinho, Kaka and Stephan El Shaarawy