Things Showing How Times Have changed
Then And Now, Amazing How Things Have Changed
Considering the perception of people today and the perception of the same people ten years ago, you will come to only one conclusion, things have really changed. We have considered ten things that show how things have really evolved with time, check them out.
10. Want to look better in a bathing suit: Gain Weight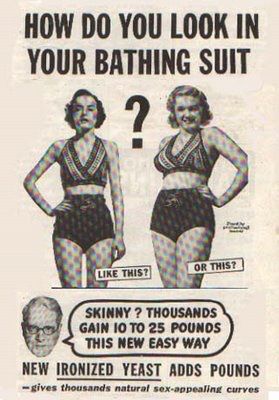 This picture represents how things were in 1944, the woman in left was aspiring to be the woman in left. It's surprising too that the advert reads that you need to add weight to get thousands of natural sex appealing curves, in the 21st century, women are struggling to loose weight so that they can be more admirable.
9. Common courtesy
The past has been characterized by people removing their hats to say hi to fellow friends, today things have really changed, people are removing headphones instead. Also you can talk to a person when you are doing your own things on the phone.
8. Job security…..gone today
Jobs have really been scarce today, long ago, people felt it's a burden reporting everyday and staying at the work place, today, it's the dream of many to get that job that was once a nuisance.
7. Macaulay Culkin moments, what happened?
The two famous boys have just grown as we watched, especially Elijah, the boy on the left. 20 years later, Culkin and Elijah are incomparable as show cased by the infamous Home Alone movie.
6. 33 years sitting on your butt
1980s were marked by a person sitting on a very huge computer but as the years are progressing, the computers are becoming smaller while people are growing huge owing to the sitting nature of jobs. What will the situation be in the next 40 years?
5. Insanely Institutionalized
The thought that Jesus just institutionalized in the recent years is hilarious, in the 12th A.D no one would deny that Jesus was there and he was Holy and ascended in to Heaven. Today, the name Jesus is the order of the day.
4. Innovation and technology
Time is really changing with the constant innovation and development of technology, even animals are getting hooked by apps. There are programs that have been developed with animals in mind.
3. Postal Mail services
Receiving a postal mail was a very good impression of development, you would wait every day to see if the mail man would come to your doorstep, today, we are receiving hundreds of emails everyday courtesy of the internet without need of the postal service.
2. Kids now a days
Technology carries the day, these days children are doing everything with their mobile devices, playing games, attending classes and even shopping, this was not the case 20 years ago.
1. Winnie pooh and TED (2012)
Pooh and Christopher Robin autonomously seem to be the twisted Ted and mark Wahlberg. You definitely know what to expect with the modern Ted.